The ONCA Gallery is currently open Wednesday – Saturday. The ONCA Barge is open on Fridays for Dresscue and Community Afternoons, and for one-off events. See below for more information.
Intro to Sewing: Make a Block Tee
9 June
10:00 am –
3:30 pm
This workshop is ideal for those that have used a sewing machine before but want to build confidence and develop skills further.
Make your own made-to-measure Block Tee designed by Paper Theory. You will learn how to make bias binding, edge stitch and sew tricky right angles. At the end of the workshop, you'll leave wearing your hand-made creation!
What will be covered:
Taking your measurements
Reading and understanding a sewing patterns
Step by step construction
Making and applying bias binding
Tips for sewing rights angles (seen in the arm hole construction)
What will be provided:
A printed Block Tee pattern (sizes 6 – 28) with step by step guide for use in the workshop and to take home
Use of our PFAFF Domestic sewing machines, overlocker and tools
Unlimited supply of teas, coffees and biscuits
What you will need to bring:
Fabric of your choice. Please see fabric consumption chart below to work out how much fabric to bring (You can email for advice). Fabric should be pre-washed and ironed – this is because some fabric shrinks when washed for the first time. Choose a non-stretch fabric, we recommend cotton or linen. You may want to choose one fabric to make the whole piece or two contrasting fabrics to make the body and sleeves as seen in the photo above.
One spool of matching thread
On the fabric consumption chart below, the left column refers to the width that fabric often comes in (115cm/ 150cm). Once you've found the fabric you want to use, look at the width on the roll of fabric and then you can refer to your size on the chart to work out how much to get. For example, a size 16 buying fabric on a 150cm roll would need to get 1.25mtrs of fabric.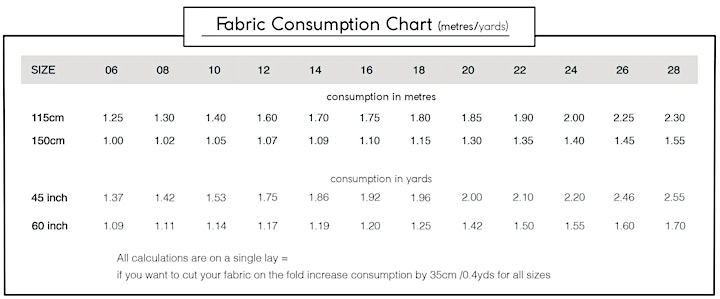 This event is part of the Dresscue Project, encouraging creative practices in making, mending and up-cycling to extend the life of clothing. Join Dresscue every Friday between 10am and 1pm to use ONCA's drop-in sewing space.
Related Events
Data Security and Data Protection
Please note that personal information provided by you via Eventbrite will be used by ONCA for the effective administration of your registration and to send our feedback survey, link to sign up to our newsletter and link to our membership registration page. ONCA will not pass your details on to any external organisations for marketing purposes. Click here to find out more about our Privacy Policy.
Accessibility
Please contact or 01273 607101 if you have specific access needs, please note the gallery is wheelchair accessible but the toilet is up five stairs. We have hearing assistive technology and our staff have Basic BSL & Deaf Awareness training. For more information about access and facilities at ONCA please click here.
Feedback
Have you been to an ONCA exhibition or event recently? If you would like to share your thoughts with us, you can do so by completing our anonymous feedback survey.